Hello Parents!
The wait is over and we finally received our UV lights for the school !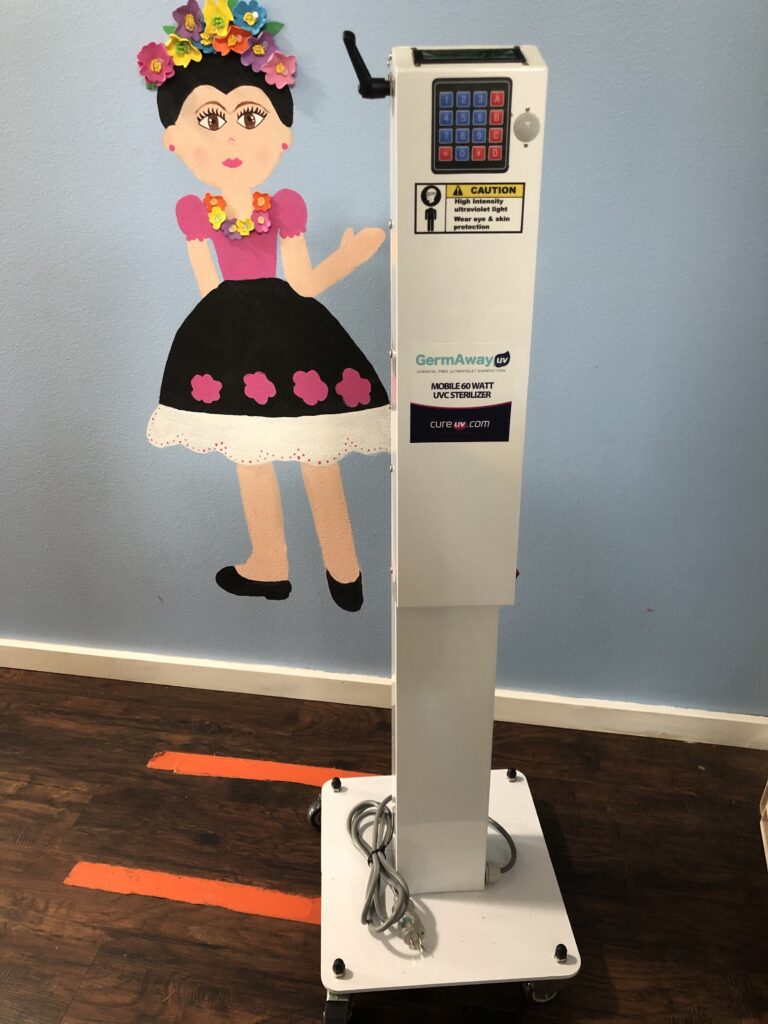 GermAway UV has been a leading product designer in mobile sterilization units. Their devices have led the charge in killing and destroy and pathogens that exist in rooms and on hard surfaces. Once again, GermAway has innovated to improve with a new product – the Mobile UVC Surface Sterilizer with Motion Sensor Shutoff. One of the most powerful UV-C lamps to sterilize rooms and surfaces with the security of knowing that the new addition motion sensor will act to protect your children. It is suitable for use in a range of industries – schools and day-care centers, veterinary clinics, hospitals, entertainment centers and food manufacturers. These powerful UV-C rays target micro-organisms that cause illnesses such as MRSA, colds/flu, pneumonia, molds, E.Coli, Salmonella.
MOTION SENSOR SAFETY FEATURE
GermAway UV, ever mindful of not just your need for ease and efficiency but also safety , they have added to this device a motion sensor.
We understand that many of you are concerned about side effects of this lights , that's why they have the added security of knowing that if you've missed someone the motion sensor will automatically stop the UV-C emission immediately, protecting whoever is there! It will only resume when no further movement is detected.
Also this lights will only be in use after hours , or where no student is in the classroom …
ADJUSTABLE LAMP ARM GIVES DUAL PURPOSE
Like the mobile surface sterilization unit before it, the central feature of this device is the UV-C the lamp arm extension with unique functionalities
A lamp arm length reach is 36.22" for maxim ray emission and optimal scope over surfaces
Two UV-C high intensity lamps with button feature that allows us to adjust V-C exposure intensity by choosing whether we want to have one or both lamps on
The adjustable lamp arm with range of motion from 30° to 180° enables us to rest at the arm at an angle best suited for our sterilization needs
Digital timer which can run from 15 – 1440 minutes long (24 hours)
With these unique functionalities this device has a practical dual purpose