PROGRAMS & TUITION
Our preschool, full-time, part-time, after-school, summer school and drop-in programs are exclusively Spanish immersion curriculums. Our students start at 3 months of age and go all the way to school age. We strive to work with you to fit your family's demands. We know how hard it is to accommodate working hours and non-working hours so we work with you to fit into your schedule.
For the 2020 summer season, we will have field trips from time to time.
To get more details on our programs, contact us.
Tuition: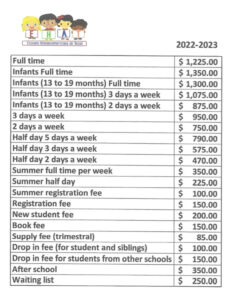 ( Note, Waiting list fee is non refundable and the spot can take anywhere from 6 months to a year before we can guarantee it )
If you have further questions, feel free to call us at (512) 574-9199.