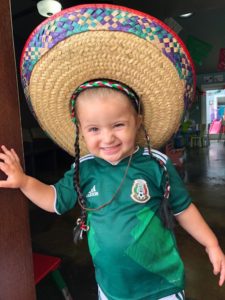 The Mexican Independence Day is celebrated September 16. It is the day that Mexico ended the rule of Spain in 1821. Independence Day is one of the most important celebrations in all of Mexico.
We celebrated Mexico's Independence Day here in EHAT on Friday, September 14th. The kids dressed in red, white and green and experimented wearing sombreros, fun Mexican hats, floral dresses, colorful bow ties, and other accessories that brightened up their attire.
We also did a lot of crafts. We colored the Mexican flag and a hat with different techniques and elements: bubble wrap and tops. We also dyed oatmeal green and pasted it on the word MEXICO. Experimenting with different textures and elements teaches children about science and exploration. It also teaches them all the different vocabulary words of the elements they used.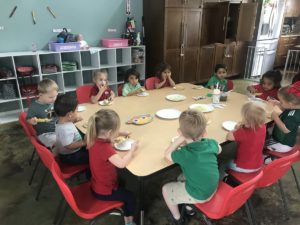 Lastly, we prepared some bean tostadas with sour cream, lettuce and cheese. We listened to a lot of Mexican music and both teachers and kids had a great day!
Here is a tostada recipe if you want to try it at home. Tostadas are a great meal for the kids to make on their own, they are more likely to eat it if they make it too.
https://www.mylatinatable.com/traditional-mexican-tostadas/
El Día de la Independencia de México en EHAT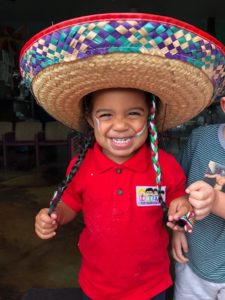 El Día de la Independencia de México se celebra el 16 de septiembre. Es el día en que México puso fin al gobierno de España en 1821. El Día de la Independencia es una de las celebraciones más importantes en todo México.
El viernes 14 de septiembre celebramos el Día de la Independencia de México aquí en EHAT. Los niños se vistieron de rojo, blanco y verde y experimentaron con sombreros, vestidos florales, corbatas coloridas y otros accesorios que los alegraron. También hicimos muchas manualidades. Coloreamos la bandera mexicana y un sombrero con diferentes técnicas y elementos: usamos envoltura de burbujas y tapas. También teñimos avena de color verde y la pegábamos en las letras de la palabra MÉXICO. Experimentar con diferentes texturas y elementos ayuda a que  los niños aprendan sobre la ciencia y exploración. También les enseña todas las diferentes palabras de vocabulario de los elementos que usaron.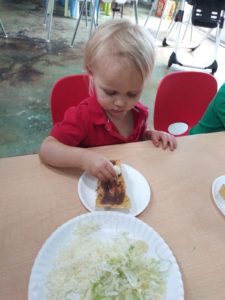 También preparamos tostadas de frijol con crema y lechuga. ¡Escuchamos mucha música mexicana y los maestros y los niños pasaron un gran día!
Aquí hay una receta de tostadas por si quieren probarla en casa. Las tostadas son una comida buena para que los niños aprendan a hacerlas por sí mismos. Es mas probable que ellos coman las tostadas si ellos las cocinaron.
https://www.mylatinatable.com/traditional-mexican-tostadas/
Vocabulario / Vocabulary