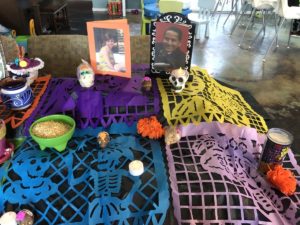 We celebrated The Day of the Dead at EHAT remembering our loved ones who have passed away. Day of the Dead or Día de los Muertos is a Mexican national holiday celebrated throughout Mexico and by people of Mexican heritage. The multi-day holiday, celebrated between October 31 and November 2nd, focuses on remembering and praying for the friends and family members who have died.
The tradition consists of building altars called ofrendas to honor the deceased. The altars are usually decorated with pictures of the deceased, their favorite food and beverage, marigolds, pan de muerto bread, sugar skulls, and other colorful decorations. This tradition traces back to the Aztecs. In other Latin American countries, "All Saint's Day" is celebrated where family and friends gather to celebrate the loved ones who have passed. Ten years ago, in 2008, Día de Muertos was inscribed in the Representative List of the Intangible Cultural Heritage of Humanity by UNESCO.
Here at EHAT, we celebrated and remembered:
Ms. Monica's dad: Luis Barragan
Profe Roy's dad: Ramiro Solis
Ms. Angie's dad: Javier Ramirez
Ms. Angie's mom: Angelica Larios
______________________________________________
Día de los Muertos
En EHAT recordamos a nuestros seres queridos que han fallecido con un altar para el Día de los Muertos.
El Día de los Muertos o Day of the Dead es una fiesta nacional mexicana celebrada en todo México y por personas con descendecia Mexicana. La fiesta nacional de varios días, que se celebra entre el 31 de octubre y el 2 de noviembre, se concentra en recordar y rezar por los amigos y los familiares que han muerto.
La tradición consiste en construir altares llamados "ofrendas" para honrar a los fallecidos. Los altares suelen estar decorados con imágenes de los difuntos, su comida y bebida favorita, las caléndulas, el pan de muerto, las calaveras de azúcar y otras decoraciones coloridas. Esta tradición empezó desde que vivían los aztecas. En otros países de América Latina, se celebra el "Día de Todos los Santos", donde familiares y amigos se reúnen para celebrar a los seres queridos que han fallecido. Hace diez años, en el 2008, el Día de los Muertos fue inscrito en la Lista Representativa del Patrimonio Cultural Inmaterial de la Humanidad por la UNESCO.
Aquí en EHAT, celebramos y recordamos a: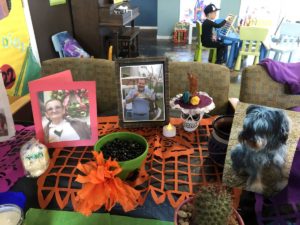 El padre de Ms. Mónica: Luis Barragán
El padre de Profe Roy:Ramiro Solis
El padre de Ms. Angie: Javier Ramírez
La mamá de Ms.. Angie: Angélica Larios